VIVOTEK VS8100 is a small-sized H.264 1-CH video server that helps you migrate from analog to digital surveillance system with ease. Its power sharing with CCTV and tiny design make it ideal for front-end installation and surveillance applications such as home, offices, retail stores, banks, and city surveillance, where their power supply and IP network connections are already settled. VS8100 supports a variety types of analog cameras, including PTZ cameras with its Pan/Tilt/Zoom control through the built-in RS-485 port.
With the high-performance H.264 compression format, it drastically reduces the file sizes and conserves valuable bandwidth and storage space. Supporting simultaneous multiple streams, the video streams can be transmitted in either of H.264 or MJPEG formats for versatile applications. The streams can also be individually configured with separate frame rates, resolution, and image quality so as to meet different platforms or bandwidth constraints.
Together with the ST7501 multi-lingual 32-channel recording software, users can set up an easy-to-use IP surveillance system with ease. VIVOTEK also provides the smart phone application iViewer, both for iPhone and Android phones, enable users to monitor live video off-site.
Feature
Up to 30 fps at D1 Resolution
Real-time H.264, MJPEG Compression (Dual Codec)
Simultaneous Multiple Streaming
One Way Audio
RS-485 Interface for PTZ Camera Control
Ultra-mini Size for Front-end Installation and Discreet Surveillance Application
DC 12V Power Sharing with Analog Camera
Green Product
CPU

Multimedia SoC (System-on-Chip)

Flash
RAM
Camera Control

PTZ camera control through RS-485
Supports CGI command serial driver

Compression
Maximum Frame Rate

30 fps @ 720x480
25 fps @ 720x576
In both compression

Maximum Streams
Video Streaming

Adjustable resolution, quality and bitrate

Image Settings

Adjustable image size, quality and bit rate
Time stamp, text overlay, flip & mirror
Configurable brightness, contrast, saturation, sharpness
Privacy masks
Aspect ratio correction
Deinterlace, 2D De-noise

Audio Capability
Compression
Interface
Users

Live viewing for up to 10 clients

Protocols

IPv4, IPv6, TCP/IP, HTTP, HTTPS, UPnP, RTSP/RTP/RTCP, IGMP, SMTP, FTP, DHCP, NTP, DNS, DDNS, PPPoE, CoS, QoS, SNMP, 802.1X

Interface

10Base-T / 100BaseTX Ethernet (RJ-45)
* It is highly recommended to use standard Cat. 5e & Cat. 6 cables which are compliant with the 3P/ETL standard.

ONVIF
Video Motion Detection

Triple-window video motion detection

Alarm Triggers

Video motion detection, Video loss/restore detection, periodical trigger, manual trigger, recording notification, system boot, camera tampering detection

Alarm Events

Event notification using HTTP, SMTP, FTP and NAS server
File upload via HTTP, SMTP, FTP and NAS server

Connectors

RJ-45 for Network connection
Male BNC for Analog video input
RS-485 Terminal Block
3.5mm Phone Jack

Supported P/T/Z Protocol

DynaDome/SmartDome, Pelco D, Pelco P, Lilin, Samsung scc643 and customized

LED Indicator

System power and status indicator

Power input
Power consumption
Dimensions

65 mm (D) x 34 mm (W) x 25 mm (H)

Weight
Casing
Safety Certifications

CE C-Tick FCC ( Class A ) LVD VCCI

Operating Temperature

0°C ~ 50 °C (32°F ~ 122°F)

Warranty
Operating System

Microsoft Windows XP/Vista/7/2000

Browser

Mozilla Firefox 7~10, Google Chrome, Safari (streaming only)
Internet Explorer 7.x or 8.x or 9.x
32 bit

Other Players

VLC: 1.1.11 or above
QuickTime: 7 or above
Product Front View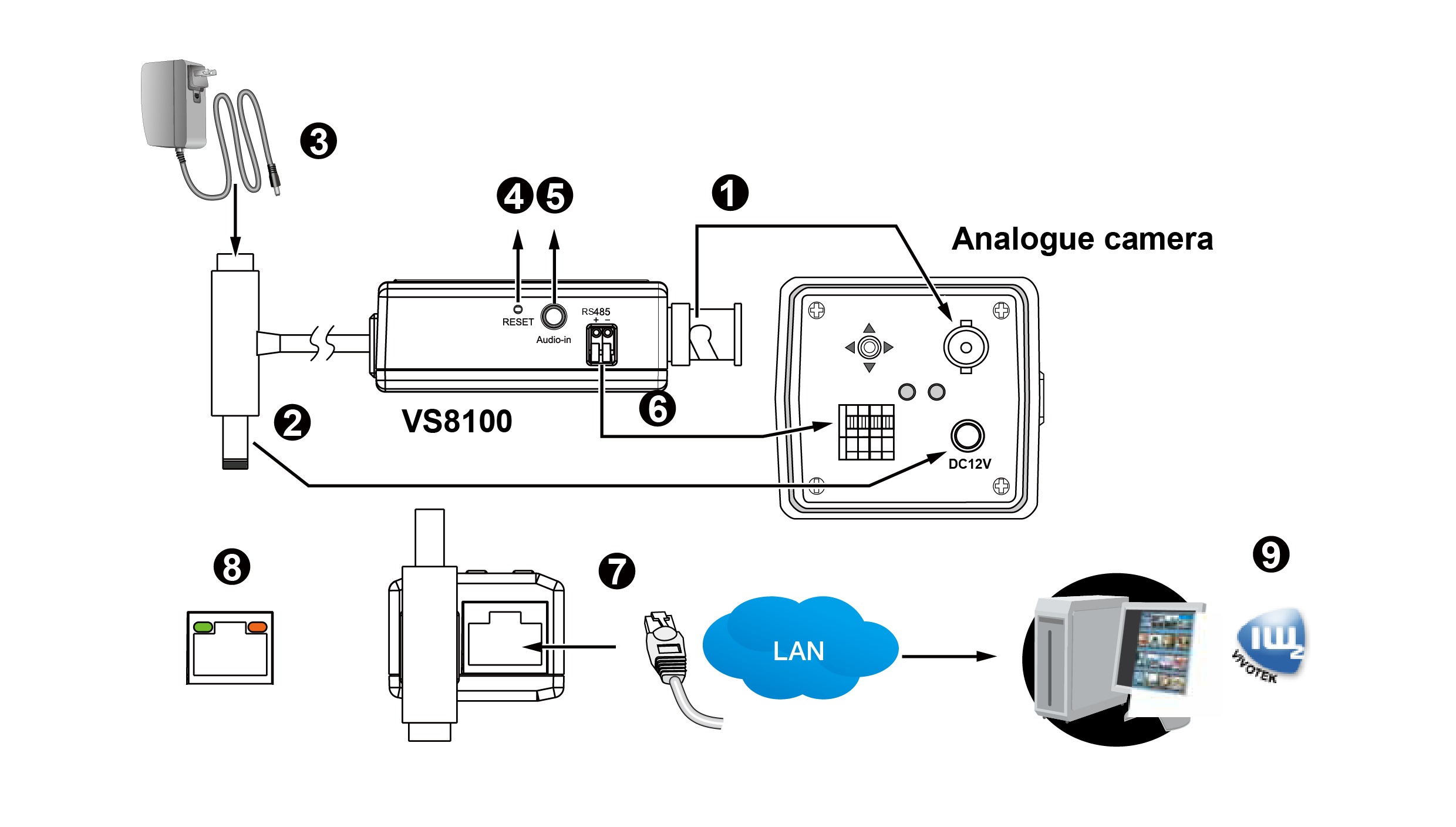 1. Connect the BNC input connector to that on an analogue camera.
2. Connect the DC 12V output to the 12V input on the analogue camera.
3. Connect the DC 12V input to a 12V power source. Normally a 12V 1.5A power adapter will be sufficient.
4. The Reset button can be used to re-start the video server.
5. If the camera has an embedded microphone, connect a stereo jack to the Audio input.
6. If a camera is mounted on a PTZ scanner, you may connect the RS485 pins for PTZ control.
7. If a camera is mounted on a PTZ scanner, you may connect the RS485 pins for PTZ control.
8. Connect an Ethernet cable to the RJ45 Ethernet port, and connect another end to an Ethernet switch.
9. See the table below for LED definitions.
10. Visit www.vivotek.com to download the IW2 utility program. Use the IW2 utility to locate and access your video server.