Notice:
VIVOTEK does not support Windows 7 embedded upgrade service on NVR products. Windows Embedded Standard 7 Service Pack 1 cannot be directly upgraded to Windows 10.
VIVOTEK's NR9581 is a full-featured high-performance H.265 NVR. Equipped with a 2U 32-CH 8 Bay Rackmount network appliance, standard RAID capability and H.265 video codec, the total storage capacity of the NVR also endows the NR9581 with scalability and flexibility, making it perfect for large-scale transport or industrial applications as well as public spaces such as campuses.
The NR9581's 8 hard-drive bay design provides for a storage capacity of up to 80TBs, offering greater than 30% ~ 50% more recording capacity than systems employing H.264 compression. This advance affords users larger storage space for longer durations of video recording. The RAID 0/1/5/6/10 configuration provides further data security in the rare event of a hard drive failure. Further, equipping the NR9581 with a DOM system has resulted in reliability and stability beyond the reach of other NVRs. Meanwhile, the NR9581 supports VIVOTEK's fisheye network camera "Fisheye Dewarp" function, which provides multiple de-warping modes in live view and playback, ensuring the correct angle of video view and detailed information for flexible usage. This ingenious NVR is also equipped to carry out remote management with a full range of the server/client structures and thus constitutes a robust system for diverse applications.
Moreover, the NR9581 features well-built ONVIF compliance and scalable configuration, with VAST CMS empowering users to set up and manage advanced IP surveillance systems with ease. The NR9581 also supports both remote and mobile access via iViewer app, for both iOS and Android handheld devices. The NR9581 represents a great advance in the field, providing users an open, intelligent and seamless NVR to meet market demands.
Feature
H.265/H.264 Compression Technology
32-CH Recording, 1+31 Display
Support HDMI, Display Port, VGA and DVI Simultaneous Output
8 Hot-Swappable HDD Bays
Support RAID 0/1/5/6/10 Storage
Max Support up to 80TB HDD
Redundant Power
VIVOTEK VAST Inside (LiveClient/Playback)
Dual Lan Giga Network Ports
ONVIF Open Platform
Device

Model

NR9581

OS

Embedded Windows 7
(*Please refer to VIVOTEK Website for more information about Win7/Win10 embedded upgrade)

Watchdog

Hardware + Software

Power Restoration

System Restart Automatically after Power Recovery
Local Display

LiveView Display

32 Channels
Multi-Layout Display: 1x1, 2x2, 1+5, 3x3, 1+12, 4x4, 5x5, 1+31,8x8, 1P+2, 1P+6, 1P+8, 2V, 3V, 4V, 2V+3
Single Layout Display, Full Screen Display, Sequential Display

Video Output

HDMI x1, Display Port x1, VGA x1, DVI x1

Display Resolution

HDMI: 3200x2000
DP: 3200x2000
VGA/DVI: 1920x1200

Dual Monitor

Supported

Camera Position

Change the viewcell position on the Live View screens

Stream Application

Stream Selection & Auto Stream Size

Monitor Enhancement

Drag & Drop, Remote I/O Control, PiP (Digital Zoom), Instant Replay, De-interlace
Video Display Mode (Aspect Ratio, Hide Borders, Keep Top/Down Borders)
Video Enhancement (Basic Mode: Brightness, Contrast, Saturation, Hue; Intelligent Mode: Defog, Rain, Snow, Fire / Smoke)

Fisheye Dewarp

1O, 1P, 1R, 1P2R, 1P3R, 1O3R, 1O8R, 2P, 4R, 4R Pro

PTZ Operation

Direction Control, Home, Zoom, Focus, Iris, Preset, Patrol (Group), Pan, Stop, Speed
Video

Video Format

H.265, H.264 SVC, H.264 AVC, MPEG4, MJPEG

Graphic Decoder

Software decoding

Decoding Resolution

Up to 8192x8192

Decoding Capability

H.264: 1920x1080 @ 300 fps
H.265: 1920x1080 @ 150 fps
Audio

Audio Format

G.711, G.726, AMR, AAC

Audio In/Out

Microphone audio jack Input x1
3.5 Line input audio jack x1
3.5 Line output audio jack x1

2-way Audio

Supported
Record

Recording Time (sec.)

Pre-Record: 3-15
Post-Record: 10-60

Recording Stream

Single/Multiple

Recording Throughput

512 Mbps

Recording Mode

Continuous, Schedule, Manual, Event, Activity Adaptive Streaming

Recording Setting

Recycle (unit: Size or Day)

Seamless Recording

Supported
Storage & Backup

HDD Devices

Hot-Swappable Tray x8
*HDD is purchased by separately.

HDD Max. Capacity

*Please refer to recommended HDD list on the VIVOTEK website.

RAID

RAID 0, 1, 5, 6, 10

Disk Management

Create, Format and Remove Disk

Video Clip Export

USB Dongle (FAT Format)
NAS (SMB & CIFS)

Schedule Backup

NAS (SMB & CIFS)
Playback

Playback Display

16 Channels
Multi-Layout Display: 1x1, 2x2, 1+5, 3x3, 1+12, 4x4, 2V, 3V, 4V, 2V+3
Single Layout Display, Full Screen Display, Sequential Display

Playback Control

Play, rewind, pause, stop, next/previous video start, next/previous frame, 1/8X ~ 64X speed control, bookmark

Video Search

Browsing, date & time (fast), event, bookmark, alarm, log, timeline, timeline scale

Snapshot

BMP & JPEG

Video Clip Export

AVI, 3GP & EXE
Network

Ethernet

10/100/1000Mbps Ethernet (RJ-45) x2

Video Throughput for Remote Client

400 Mbps

Protocols

IPv4, TCP/IP, HTTP, HTTPS, UPnP, RTSP/RTP/RTCP, SMTP, FTP, DHCP, NTP, DNS, DDNS, IP Filter
Alarm Management

Alarm Period (sec.)

Max. 30

Alarm Filter

Name, time, source, event type, state

Alarm Setting

LiveView alarm notification: fixed & popup, alert sound

Schedule Type

Continuous, schedule, manual

Camera Event

Motion, DI/O, video lost/restore, PIR, tampering, temperature, IR, PPTZ, line crossing detection, loitering detection, field detection
Audio detection, SD card life expectancy detection, shock detection, ONVIF motion event, ONVIF DI/O, ONVIF video lost/restore

Camera Status

Connection status, recording status, recording error

Substation

Substation connection status, substation DI/DO trigger*
*(ND series NVR)

Storage Status

Storage connection status, storage capacity status

Station Status

License status, network status, virtual memory status

External Devices Event

DI/O (with I/O box)

Action

Email, start recording, move to preset location, set DO, GSM short message, HTTP & client notification

Alarm State for Management

New, assigned, in progress, resolved, closed, later, reject, ignore

Alarm Result Export

.csv File
eMap

Source

Import picture

Device

Camera, external DI/O, substation camera, substation DI/O*
*(ND series NVR)

Marked

Add, remove, direction control, PTZ control & indicator LiveView

Event Notification

Event icon light flash, show live streaming on eMap
External Interface

USB

USB 2.0 x4
USB 3.0 x2

Audio

Microphone audio jack Input x1
3.5 Line input audio jack x1
3.5 Line output audio jack x1
System

POS Integration

Supported

UPS Integration

Supported

Camera Integration

ONVIF core spec 2.2 or later

I/O Box Integration

Advantech ADAM-6000 Series
CHIYU CYT-133SC

User Management

Authentication: Basic Account / Windows AD Account
User Account: 1024
User Account Time Limit: No limitation, By Time & By Day
User Account Time Schedule: Weekly Setting
User Level: Administrator / Power User / User / Operation / Guest

Log

Operation, system and event log

Date & Time

Sync server
Advanced Features

VCA Counting Solution

Supported

Failover

Supported
Remote Client

Software AP

Shepherd, VAST

Mobile/Tablet App

iViewer (Android & iOS)

Web Browser

Internet Explorer 9 (32 bit) or above
General

Power Input

Redundant power 100~220V AC

Power Consumption

Max. 740 W

Redundant Power

Supported

80 Plus Certified

Platinum

Dimensions

89 (H) x 437 (W) x 648 (D) mm

Weight

27 kg (Without HDD)

Operating Temperature

5°C ~ 35°C (41°F ~ 95°F)

Humidity

0 ~ 95%

Safety Certifications

CE, LVD, FCC, VCCI, C-Tick, UL

Warranty

36 months
Dimension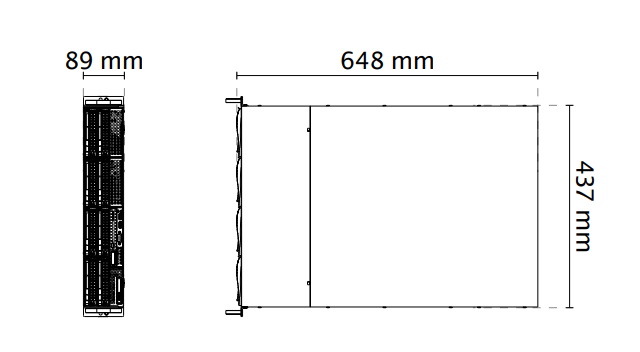 Recommended HDD List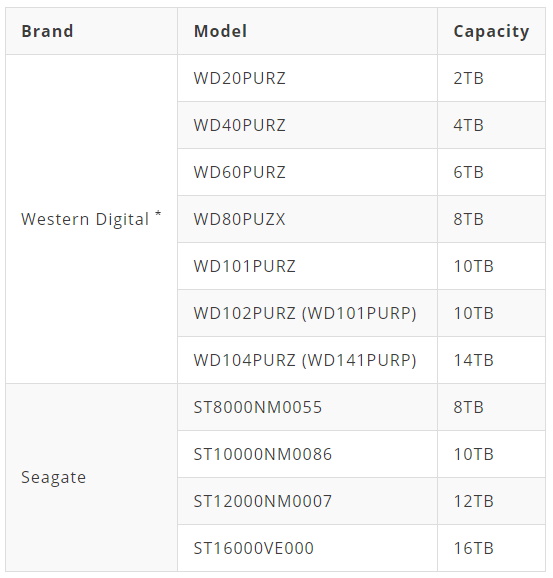 * WD (Western Digital) is one of VIVOTEK's SIA (Solution Integration Alliance) partners for developing customized features on an open platform. WD provides well maintain and repair service as VIVOTEK always do. For further direct service of WD HDD product, please refer to WD Global Warranty website.