VIVOTEK's IP9165-LPR Kit (Street) is a standalone LPR camera system featuring a built-in license plate recognition system, supporting white-lists and black-lists for license plate verification. It also offers various APIs for integration with 3rd party systems such as traffic management, toll collection, and weighbridge systems. The IP9165-LPR Kit (Street) is an ideal option for city surveillance, residential communities, and expressway toll-management applications.
With the adoption of snap-in corresponding IR LEDs and a built-in head-light filter, the IP9165-LPR Kit (Street) delivers the best results for license plate recognition in both the highest levels of glare and in the darkest hours of the night. Empowered with VIVOTEK LPR Scene Mode, which provides different exposure levels to avoid overexposure in some lighting conditions, the Kit can capture clear plate images from the vehicles moving at speeds of up to 60MPH (90km/hr). Value-added features such as DIS (Digital Image Stabilization) and i-CS lens (intelligent-CS) can be easily installed and adjusted to provide the perfect LPR solution.
Additionally, in order to provide precise, reliable and authoritative data for use as evidence. The IP9165-LPR Kit can simultaneously combine the LPR result and a snapshot of the linked camera. This feature is beneficial for law enforcement agencies, such as the police and government.
Feature
Capture Vehicle Speed up to 60MPH (90km/hr)
Embedded LPR Software for Urban/Road Applications
Supports License Plates from over 70+ Countries
Taking Snapshots from Another Related Overview Camera as Evidence Images
Supreme Anti-Glare Capability
One Camera Covers Dual Lane
Certified by Numerous LPR Software Manufacturers around the World
Vandal-Proof IK10-rated and Weather-Proof IP68-rated Housing
System Information

Model

IP9165-LPR Kit (Street, 9-50mm, i-CS, Snap-in IR)
IP9165-LPR Kit (Street, 12-40mm, Snap-in IR)

Max. Speed

60MPH (90 km/hr)

IR Threshold

IR on: 300 lux
IR off: 600 lux
RS485 configurable

Shutter Time

1/1,000 to 1/10,000 sec.

Max. Shutter Time

1/5 to 1/32,000 sec.

Illuminators

48W, 10° ~ 30° remote control beam angle, embedded IR illuminator

Capture Range

Up to 35 meters

Captured Lanes

Dual Lane
*Suggested width per lane: 3.5 ~ 4M

Power Input

AC/DC 24V

Power Consumption

Max. 78 W (IR on)
Max. 30 W (IR off)
Suggested Power: DC 24V or AC 24V / 3.5A

Weight

6.2 kg

Housing

Weather-proof IP68-rated housing
Vandal-proof IK10-rated housing

Operating Temperature

Starting Temperature: 0°C ~ 60°C (32°F ~ 140°F)
Working Temperature: -20°C ~ 60°C (-4°F ~ 140°F)
Working Temperature: -40°C ~ 60°C (-40°F ~ 140°F), with optional cold start heater

Humidity

90%
Video

Compression

H.265, H.264, MJPEG

Maximum Streams

4 simultaneous streams

Image Settings

General settings: video title and time stamp overlay, video orientation (flip, mirror, rotation), day/night settings
IR control: illuminators, spectrum mode, anti-overexposure
Image settings: white balance, image adjustment (brightness, contrast, saturation, sharpness, gamma curve), defog, 3DNR, Lens distortion correction, DIS, scene mode (LPC-parking, LPC-street)
Exposure: BLC, HLC, exposure control (exposure level, iris adjustment, exposure time, gain control, iris mode), AE speed adjustment, WDR
Focus: zoom, focus
Privacy mask, Scheduled profile settings
Network

Users

Live viewing for up to 10 clients

Protocols

Camera:

802.1X, ARP, CIFS/SMB, CoS, DDNS, DHCP, DNS, FTP, HTTP, HTTPS, ICMP, IGMP, IPv4, IPv6, NTP
PPPoE, QoS, RTSP/RTP/RTCP, SMTP, SNMP, SSL, TCP/IP, TLS, UDP, UPnP

Urban ANPR:

Socket client, Socket server, ONVIF event, FTP/FTPS, HTTP/HTTPS

Interface

10 Base-T/100 Base-TX/1000 Base-T Ethernet (RJ-45)
* It is highly recommended to use standard CAT5e & CAT6 cables which are compliant with the 3P/ETL standard.

ONVIF

Profile G, S supported, specification available at www.onvif.org
Solution Integration

Video Motion Detection

Five-window video motion detection

Embedded Software

VIVOTEK ANPR

VADP Package

Trend Micro IoT Security
Alarm and Event

Event Trigger

Audio detection, camera tampering detection, digital input, manual trigger, motion detection
Cybersecurity events (brute force attack event, cyberattack event, quarantine event)
Periodical trigger, recording notification, SD card life expectancy, shock detection, system boot

Event Action

Camera:

Event notification via digital output, email, HTTP, FTP, NAS server, SD card, push notification
File upload via email, HTTP, FTP, NAS server, SD card

ANPR Software:

Socket client, socket server, onvif event, digital output trigger, HTTP, FTP, send event to Milestone VMS, wiegand protocol supported

General

Smart Focus System

RBF (Remote Back Focus)

IP Camera Connectors

RJ-45 cable connector for Network/PoE connection *1
Audio input *1
Audio output *1
DC 12V power input *1
AC 24V power input *1
Digital input *2
Digital output *2
RS485 *1
BNC *1

Safety Certifications

IP Camera: CE, LVD, FCC Class B, VCCI, C-Tick, UL

Warranty

36 Months
System Requirements

Operating System

Microsoft Windows 8/7
Mac 10.12 (Chrome only)

Web Browser

Chrome 58.0 or above
Internet Explorer 10/11

Other Players

VLC: 1.1.11 or above
System Information

Model

IP9165-LPR

CPU

Multimedia SoC (System-on-Chip)

Flash

512 MB

RAM

1 GB
Camera Features

Image sensor

1/2" progressive CMOS

Max. Resolution

1920x1080 (2MP)

Lens Type

Vari-focal, Remote Back Focus, i-CS

Focal Length

f = 9 ~ 50 mm [IP9165-LPR (9-50mm)]
f = 12 ~ 40 mm [IP9165-LPR (12-40mm)]

Aperture

F1.5 [IP9165-LPR (9-50mm)]
F1.8 ~ F2.3 [IP9165-LPR (12-40mm)]

Iris Type

i-CS [IP9165-LPR (9-50mm)]
P-iris [IP9165-LPR (12-40mm)]
(DC-iris reserved)

Field of View

IP9165-LPR (9-50mm):

8.3° ~ 42.8° (Horizontal)
4.7° ~ 24.3° (Vertical)
9.46° ~ 48.9° (Diagonal)

IP9165-LPR (12-40mm):

11.6° ~ 34.2° (Horizontal)
6.6° ~ 18.7° (Vertical)
13.3° ~ 39.8° (Diagonal)

WDR Technology

WDR Pro II

Day/Night

Removable IR-cut filter for day & night function
(Headlight filter design for Anti-Glare)

Pan/ Tilt/ Zoom Functionalities

ePTZ: 48x digital zoom (4x on IE plug-in, 12x built-in)

On-board Storage

Built-in 32GB MicroSD card for LPR images
Slot type: MicroSD/SDHC/SDXC card slot (Max. SD card capacity:128GB)
Seamless Recording
Video

Maximum Frame Rate

60 fps @ 1920x1080

S/N Ratio

66.2 dB

Dynamic Range

140 dB
Audio

Audio Capability

Two-way Audio (full duplex)

Audio Compression

G.711
G.726

Audio Interface

External microphone input
External line output
General

Model

AI-109, Snap-in IR illuminator

Max. Distance

Up to 35meters for LPR street application

Beam Angle

10° ~ 30° remote adjustable

Power Input

24VAC/28VDC with AE-23A enclosure

Power Consumption

48W

Weight

450 g

Housing

Weather-proof IP68-rated housing
Vandal-proof IK10-rated housing

Operating Temperature

-40 °C ~ 50 °C (-40°F ~ 122°F)

Color

White

Wavelength

850nm

Dimensions

135 x 106 x 111 mm (5.3 x 4.2 x 4.4 inch)

Certifications

CE, FCC Class B, EN62471

Integrated Control

Built-in photocell for automatic IR on/off
Dimension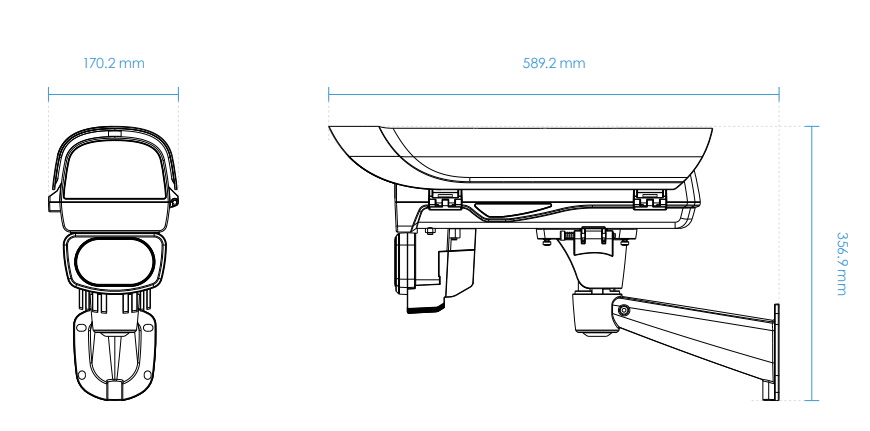 Suggested Installation