VIVOTEK IP8162P is part of the SUPREME series product line offering 2-megapixel resolution with superb image quality. The camera can capture a much more comprehensive area than a standard VGA camera, significantly reducing the number of cameras required. It is especially suitable for monitoring wide open indoor spaces such as building entrances, airports, or applications requiring accurate identification.
The IP8162P employs many advanced features to allow users to fully enjoy the high definition video. With high performance H.264/MPEG-4/MJPEG compression technology, the IP8162P offers high-quality video with resolution up to 1080p full HD @ 30fps. With a P-iris lens, which controls the iris with extreme precision with its built-in stepping motor, it maintains the iris opening at an optimal level at all times, resulting in superior image clarity and depth of field as well as image quality. In addition, the IP8162P is also equipped with a focus assist button to allow users to precisely adjust the camera focus. After pushing the focus assist button on the camera unit, an indicator will be displayed onscreen with detailed focus information, which will change in accordance with the manual adjustment. Moreover, continuing to push the button will zoom in on the target area for fine tuning, resulting in better usability and picture clarity. The IP8162P can also be directly connected to an analog monitor with the built-in BNC connector, providing integrators more flexibility and hassle-free installation for a myriad of applications.
Together with WDR enhancement, users can identify image details in extremely bright as well as dark environments. Also featuring other high-end features such as multiple streams, video cropping, ePTZ, SDHC card slot, PoE, and the included 32-CH recording software, the IP8162P is indisputably the top choice for reliable and high performance megapixel surveillance.
Key Features
2-megapixel CMOS Sensor
3.1 ~ 8 mm Vari-focal, P-iris Lens
Up to 30 fps @ 1080p Full HD
Removable IR-cut Filter for Day & Night Function
Built-in Focus Assist Button for Precise Focus Adjustment
Supports WDR Enhancement for Unparalleled Visibility in Extremely Bright and Dark Environments
Real-time H.264, MPEG-4 and MJPEG compression (Triple Codec)
Simultaneous Multiple Streams
Video Cropping for Bandwidth Saving
ePTZ for Data Efficiency
Activity Adaptive Streaming for Dynamic Frame Rate Control
Built-in SD/SDHC Card Slot for On-board Storage
Built-in 802.3af Compliant PoE
Lens
f=3.1 ~ 8 mm
F 1.2
P-iris
CS-mount
Vari-focal
Removable IR-cut filter for day & night function
Field of View
105.4° ~ 42.2° (horizontal)
57.9° ~ 23.8° (vertical)
123.1° ~ 48.3° (diagonal)
Shutter Time
1/5 ~ 1/32,000 sec.
Image sensor
1/2.7" CMOS in 1920x1080 Resolution
Minimum Illumination
0.06 Lux / F1.2 ( Color ) 0.001 Lux / F1.2 ( B/W )
Video
Compression:
H.264, MPEG-4 & MJPEG
Streaming:
Simultaneous multiple streams
H.264 streaming over UDP, TCP, HTTP or HTTPS
H.264/MPEG-4 multicast streaming
MPEG-4 multicast streaming
MJPEG streaming over HTTP or HTTPS
Supports activity adaptive streaming for dynamic frame rate control
Supports video cropping for bandwidth efficiency
Supports ePTZ for data efficiency
Supports 3GPP mobile surveillance
Frame rates:
H.264: Up to 30 fps @ 1280 x 720, Up to 30 fps @ 1920 x 1080
MPEG-4: Up to 30 fps @ 1280 x 720, Up to 27 fps @ 1920 x 1080
MJPEG: Up to 30 fps @ 1280 x 720, Up to 30 fps @ 1920 x 1080
BNC connector for video output
NTSC/PAL video output switch
Focus Assist
Image Settings
Adjustable image size, quality, and bit rate
Time stamp and text caption overlay
Flip & mirror
Configurable brightness, contrast, saturation, sharpness, white balance and exposure control
AGC AWB AES
Automatic, manual or scheduled day/night mode
Supports privacy masks
BLC (Backlight compensation)
WDR enhanced
Audio
Compression:
GSM-AMR speech encoding, bit rate: 4.75 kbps to 12.2 kbps
MPEG-4 AAC audio encoding, bit rate: 16 kbps to 128 kbps
G.711 audio encoding, bit rate: 64 kbps, μ-Law or A-Law
Interface:
Built-in microphone
External microphone input
Audio output
Supports two-way audio
Supports audio mute
Networking
10/100 Mbps Ethernet, RJ-45
ONVIF support
Protocols: IPv4, IPv6, TCP/IP, HTTP, HTTPS, UPnP, RTSP/RTP/RTCP, IGMP, SMTP, FTP, DHCP, NTP, DNS, DDNS, PPPoE, CoS, QoS, SNMP and 802.1X
Alarm Triggers
Triple-window video motion detection
1 D/I & 1 D/O for external sensor and alarm
Event notification using HTTP, SMTP, FTP
Local recording of MP4 files
Tamper Detection
On-board Storage
MicroSD/SDHC card slot
Stores snapshots and video clips
Security
Multi-level user access with password protection
IP address filtering
HTTPS encrypted data transmission
802.1X port-based authentication for network protection
Users
Live viewing for up to 10 clients
Dimensions
Depth: 154mm
Width: 72mm
Height: 62mm
Weight
Net: 611 g
LED Indicator
System power and status indicator
System activity and network link indicator
Power
12V DC
24V AC
Power consumption: Max. 4.92 W
802.3af Power-over-Ethernet (Class 3)
Approvals
CE C-Tick FCC LVD VCCI UL  
Operating Environments
Temperature: -10 ~ 50 °C (14 ~ 122 °F )
Humidity: 90%
Viewing System Requirements
OS: Microsoft Windows 7 / Vista / XP / 2000
Browser: Mozilla Firefox
Browser: Internet Explorer 7.x or above
VLC: 10.5 or above
QuickTime: 6.5 or above
Cell phone: 3GPP player
Real Player 10.5 or above
Installation Management and Maintenance
RS-485 interface for scanners, pan/tilts
Installation Wizard 2
ST7501 32-channel recording software
Supports firmware upgrade
Applications
SDK available for application development and system integration
Warranty
36 Months
Product Front View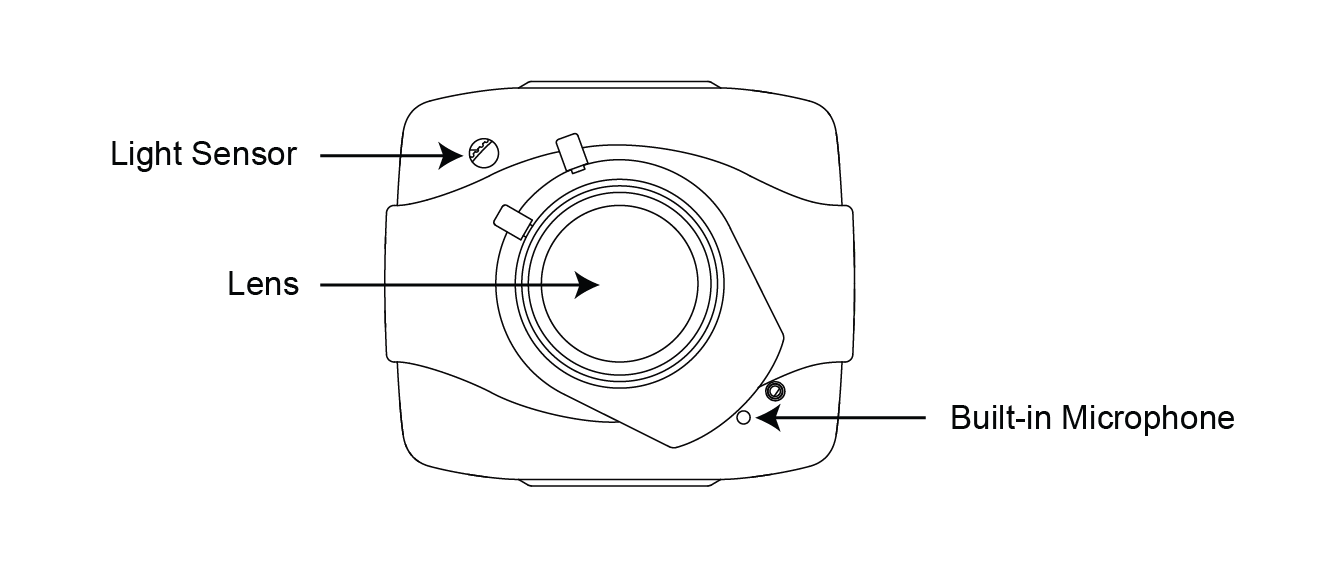 Product Rear View