VIVOTEK IB8156 is an ultra-mini bullet network camera, specially designed for indoor applications in which camera appearance is cared, such as luxury stores, antique stores and cloth shops.
The IB8156 is equipped with a 1.3-megapixel sensor and the ability to output 30 frames per second in H.264 compression. It includes multiple streams with different settings and applications, such as recording or live viewing.
Users can also benefit from simple installation with the compact housing and standard PoE power input design, as well as a MicroSD card slot for local storage.
Feature
1.3-Megapixel CMOS Sensor
30 fps @ 1280x1024
Real-time H.264, MJPEG Compression (Dual Codec)
Built-in IEEE 802.3af Compliant PoE
Built-in MicroSD/SDHC/SDXC Card Slot for On-board Storage
Ultra-mini Size Design
Easy Installation
CPU

Multimedia SoC (System-on-Chip)

Flash

RAM

Image sensor

Maximum Resolution

Lens Type

Focal Length

Aperture

Field of View

77° (horizontal)
61° (vertical)
101° (diagonal)

Shutter Time

1/5 sec. to 1/32,000 sec.

Minimum Illumination

On-board Storage

Compression

Maximum Frame Rate

Maximum Streams

S/N Ratio

Video Streaming

Adjustable resolution, quality and bitrate
Configurable video cropping for bandwidth saving

Image Settings

Adjustable image size, quality and bitrate
Time stamp, text overlay, flip & mirror
Configurable brightness, contrast, saturation, sharpness, white balance, exposure control, gain, backlight compensation, privacy masks
Scheduled profile settings

Users

Live viewing for up to 10 clients

Protocols

IPv4, IPv6, TCP/IP, HTTP, HTTPS, UPnP, RTSP/RTP/RTCP, IGMP, SMTP, FTP, DHCP, NTP, DNS, DDNS, PPPoE, CoS, QoS, SNMP, 802.1X, UDP, ICMP

Interface

10 Base-T / 100BaseTX Ethernet (RJ-45)

ONVIF

Supported, specification available at www.onvif.org

Video Motion Detection

Triple-window video motion detection

Alarm Triggers

Video motion detection, manual trigger, digital input, periodical trigger, system boot, recording notification, camera tampering detection

Alarm Events

Event notification using digital output, HTTP, SMTP, FTP and NAS server
File upload via HTTP, SMTP, FTP and NAS server

Connectors

RJ-45 for Network/PoE connection

LED Indicator

System power and status indicator

Power input

Power consumption

Dimensions

Safety Certifications

CE C-Tick FCC ( Class B ) LVD VCCI

Operating Temperature

-20°C ~ 40°C (-4°F ~ 104°F)

Warranty

Operating System

Microsoft Windows 7/Vista/XP/2000

Browser

Mozilla Firefox 7~10 (streaming only)
Internet Explorer 7.x or 8.x

Other Players

VLC: 1.1.11 or above
QuickTime: 7 or above
Product Front View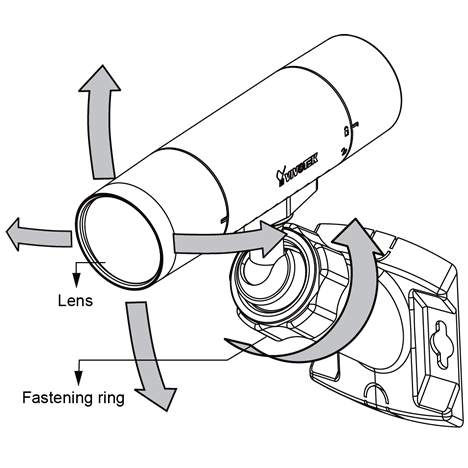 Product Rear View