VIVOTEK FD8362 are professional fixed dome network cameras offering 2-megapixel or 1080p Full HD resolution with superb image quality up to 30 fps. The cameras can capture a much more comprehensive area than a standard VGA model, significantly reducing the number of units required. It is especially suitable for monitoring wide open outdoor such as building entrances, airports or applications requiring accurate identification.
For installers, properly adjusting the focus of a megapixel network camera can be difficult due to the image detail. Thus VIVOTEK introduces the Smart Focus System including Focus Assist Button and Remote Focus to make installation and adjustment easier. VIVOTEK adopts lenses with built-in stepping motors that the installer can use to remotely control the focal length and precisely adjust the camera focus, offering hassle-free installation and maintenance.
The IP66-rated housing is designed to help the camera body withstand rain and dust and ensures operation under a multitude of harsh weather conditions. Its metal vandal-proof housing effectively provides robust protection from vandalism.
With other advanced features such as tamper detection, 802.3af Compliant PoE, MicroSD/SDHC card for on-board storage, video cropping, and e-PTZ functionality, the FD8362 provide the most robust solution suitable for any demanding outdoor environments.
Feature
2-Megapixel CMOS Sensor
30 fps @ 1920x1080
3 ~ 9 mm Motorized, DC-iris Lens
Removable IR-cut Filter for Day & Night Function
Built-in IR Illuminators, Effective up to 15 Meters
Built-in Smart IR to Avoid Overexposure
WDR Enhancement for Unparalleled Visibility in High Contrast Environments
Smart Focus System for Remote and Easy Focus Adjustment
Vandal-proof IK10-rated and Weather-proof IP66-rated Housing
Lens
f=3~9 mm
F 1.2 (wide)
F 2.1 (tele)
Auto iris
Board lens
Removable IR-cut filter for day & night function
Remote Focus
Field of View
31.7° ~ 93.0° (horizontal)
23.8° ~ 68.4° (vertical)
39.6° ~ 118.9° (diagonal)
Shutter Time
1/5 ~ 1/32,000 sec.
Image sensor
1/2.7" progressive scan CMOS in 1920x1080 Resolution
Minimum Illumination
0.08 Lux @ F1.2 ( Color )
0.001 Lux @ F1.2 ( B/W )
Video
Compression:
H.264, MPEG-4 & MJPEG
Streaming:
Simultaneous multiple streams
H.264 streaming over UDP, TCP, HTTP or HTTPS
H.264/MPEG-4 multicast streaming
MPEG-4 streaming over UDP, TCP, HTTP or HTTPS
MJPEG streaming over HTTP or HTTPS
Supports activity adaptive streaming for dynamic frame rate control
Supports video cropping for bandwidth efficiency
Supports ePTZ for data efficiency
Supports 3GPP mobile surveillance
Frame rates:
H.264: Up to 30 fps at 1920x1080
MPEG-4: Up to 30 fps at 1920x1080
MJPEG: Up to 30 fps at 1920x1080
Interface:
Audio/Video output
NTSC/PAL video output switch
Image Settings
Adjustable image size, quality, and bit rate
Time stamp and text caption overlay
Flip & mirror
Configurable brightness, contrast, saturation, sharpness, white balance and exposure control
AGC AWB AES
Automatic, manual or scheduled day/night mode
Supports privacy masks
BLC (Backlight compensation)
WDR enhanced
Audio
Compression
GSM-AMR speech encoding, bit rate: 4.75 kbps to 12.2 kbps
MPEG-4 AAC audio encoding, bit rate: 16 kbps to 128 kbps
G.711 audio encoding, bit rate: 64 kbps, μ-Law or A-Law
Interface:
External microphone input
Audio output
Supports two-way audio
Supports audio mute
Networking
10/100 Mbps Ethernet, RJ-45
ONVIF support
Protocols: IPv4, IPv6, TCP/IP, HTTP, HTTPS, UPnP, RTSP/RTP/RTCP, IGMP, SMTP, FTP, DHCP, NTP, DNS, DDNS, PPPoE, CoS, QoS, SNMP and 802.1X
Alarm Triggers
Triple-window video motion detection
1 D/I & 1 D/O for external sensor and alarm
Event notification using HTTP, SMTP, FTP
Local recording of MP4 files
Tamper Detection
On-board Storage
MicroSD/SDHC card slot
Stores snapshots and video clips
Security
Multi-level user access with password protection
IP address filtering
HTTPS encrypted data transmission
802.1X port-based authentication for network protection
Users
Live viewing for up to 10 clients
Dimensions
Ø: 173mm x 115 mm
Weight
Net: 1296 g
LED Indicator
System power and status indicator
Power
12V DC
24V AC
802.3af Power-over-Ethernet (Class 3)
Power consumption:
DC 12V Max. 8.9W (with 400mA DO on)
AC 24V Max. 12.2W (with 400mA DO on)
PoE Max. 8.2W (with 200mA DO on)
Housing
Weather-proof IP66-rated housing
Vandal-proof IK10-rated metal housing
Approvals
CE C-Tick FCC LVD VCCI UL  
Operating Environments
Temperature:
0 ~ 50 °C (32 ~ 122 °F) Humidity: 90%
Viewing System Requirements
OS: Microsoft Windows 7 / Vista / XP / 2000
Browser: Mozilla Firefox
Browser: Internet Explorer 7.x or above
VLC: 10.5 or above
QuickTime: 6.5 or above
Cell phone: 3GPP player
Real Player 10.5 or above
Installation Management and Maintenance
Camera angle adjustment:
Pan range: 350°
Tilt range: 80°
Rotate range: 350°
Installation Wizard 2
ST7501 32-channel recording software
Supports firmware upgrade
Applications
SDK available for application development and system integration
Warranty
36 Months
Waterproof Connector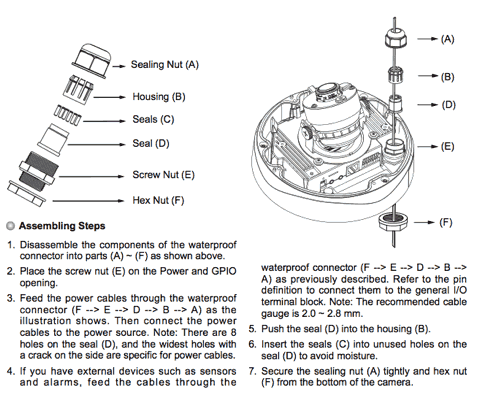 ---
Connecting RJ45 Ethernet Cable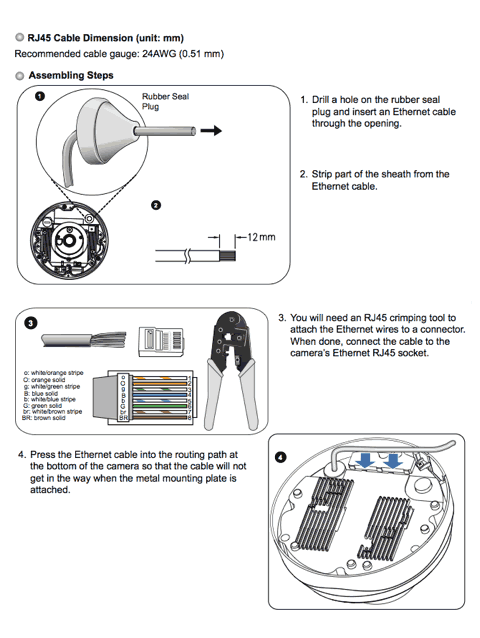 ---
Product Internal View