VIVOTEK FD8165H is a professional indoor network dome camera offering up to 60 fps @ 2-Megapixel resolution with superb image quality.
Featuring the Wide Dynamic Range Technology WDR Pro, this camera provides improved visibility in dark & light environments. Combined with 3D Noise Reduction Technology, which enables the FD8165H to capture clear, polished video under low-light conditions and reduce bandwidth from sensor noise, users can enjoy superb image detail in all lighting conditions.
Additionally, as a professional day/night camera, FD8165H adopts Smart IR technology which prevents overexposure and provides noise reduction by instantaneously adjusting IR lighting intensity to suit changes in ambient light.
To provide top-notch image quality, the FD8165H also comes with a P-iris lens, which controls the iris with extreme precision via its built-in stepper motor. The iris opening is kept at an optimal level at all times, resulting in superior image sharpness and depth of field. Furthermore, because installation and adjustment of a megapixel network camera can be difficult due to the level of image detail, the FD8165H is equipped with VIVOTEK's Smart Focus System to allow remote focus and zoom adjustment.
Feature
2-Megapixel CMOS Sensor
30 fps @ 1920x1080
60 fps @ 1920x1080 (one-stream mode only)
Motorized, P-iris Lens
Removable IR-cut Filter for Day & Night Function
Built-in IR Illuminators, Effective up to 20 Meters
Smart IR Technology to Avoid Overexposure
3D Noise Reduction for Low-light Conditions
WDR Pro to Provide Improved Visibility in Extremely Bright and Dark Environments
Smart Focus System for Remote and Precise Focus Adjustment
Two-way Audio
Video Rotation for Corridor Format
EIS (Electronic Image Stabilization) to Control Image Stability
CPU

Multimedia SoC (System-on-Chip)

Flash
RAM
Image sensor
Maximum Resolution
Lens Type
Focal Length
Aperture
Field of View

33° ~ 104° (horizontal)
19° ~ 56° (vertical)
33° ~ 121° (diagonal))

Shutter Time

1/5 sec. to 1/10,000 sec.

WDR Technology
Day & Night

Removable IR-cut filter for day & night function
Smart IR Technology to avoid overexposure

Minimum Illumination

0.16 Lux @ F1.3 (Color)
0.001 Lux @ F1.3 (B/W)

Pan / Tilt / Zoom

ePTZ: 48x digital zoom (4x on IE plug-in, 12x built-in)

IR Illuminators

Built-in IR illuminators, effective up to 30 meters
IR LED*4, with Smart IR Technology

On-board Storage

MicroSD/SDHC/SDXC card slot

Compression
Maximum Frame Rate

30 fps @ 1280x1024 in both compression

Maximum Streams
S/N Ratio
Dynamic Range
Video Streaming

Adjustable resolution, quality and bit rate

Image Settings

Time stamp, text overlay, flip & mirror
Configurable brightness, contrast, saturation, sharpness, white balance, exposure control, gain, backlight compensation, privacy masks, scheduled profile settings, 3D noise reduction, seamless recording, video rotation, EIS

Audio Capability

Two-way audio (full duplex)

Compression
Interface

External microphone input
Audio output

Users

Live viewing for up to 10 clients

Protocols

IPv4, IPv6, TCP/IP, HTTP, HTTPS, UPnP, RTSP/RTP/RTCP, IGMP, SMTP, FTP, DHCP, NTP, DNS, DDNS, PPPoE, CoS, QoS, SNMP, 802.1X, UDP, ICMP

Interface

10Base-T / 100BaseTX Ethernet (RJ-45)
* It is highly recommended to use standard Cat. 5e & Cat. 6 cables which are compliant with the 3P/ETL standard.

ONVIF

Supported, specification available at www.onvif.org

Video Motion Detection

Triple-window video motion detection

Alarm Triggers

Video motion detection, manual trigger, digital input, periodical trigger, system boot, recording notification, camera tampering detection

Alarm Events

Event notification using digital output, HTTP, SMTP, FTP and NAS server
File upload via HTTP, SMTP, FTP and NAS server

Smart Focus System
Connectors

RJ-45 for Network/PoE connection
Audio input/output
AV output
AC 24V power input
DC 12V power input
Digital input*1
Digital output*1

LED Indicator

System power and status indicator

Power input

DC12V/AC24V
IEEE 802.3af PoE

Power consumption

DC 12V: Max. 7.6 W
AC 24V: Max. 8.6 W
PoE: Max. 10.6 W

Dimensions
Weight
Safety Certifications

CE, LVD, FCC Class B, VCCI, C-Tick, UL

Operating Temperature

Starting Temperature: -10°C ~ 50°C (14°F~ 122°F)
Working Temperature: -20°C ~ 50°C (-4°F~ 122°F)

Warranty
Operating System

Microsoft Windows 7 / Vista / XP / 2000

Browser

Mozilla Firefox 7~10 ( Streaming only )
Internet Explorer 7.x ,8.x, 9.x, 10.x

Other Players

VLC: 1.1.11 or above
QuickTime: 7 or above
Product Front View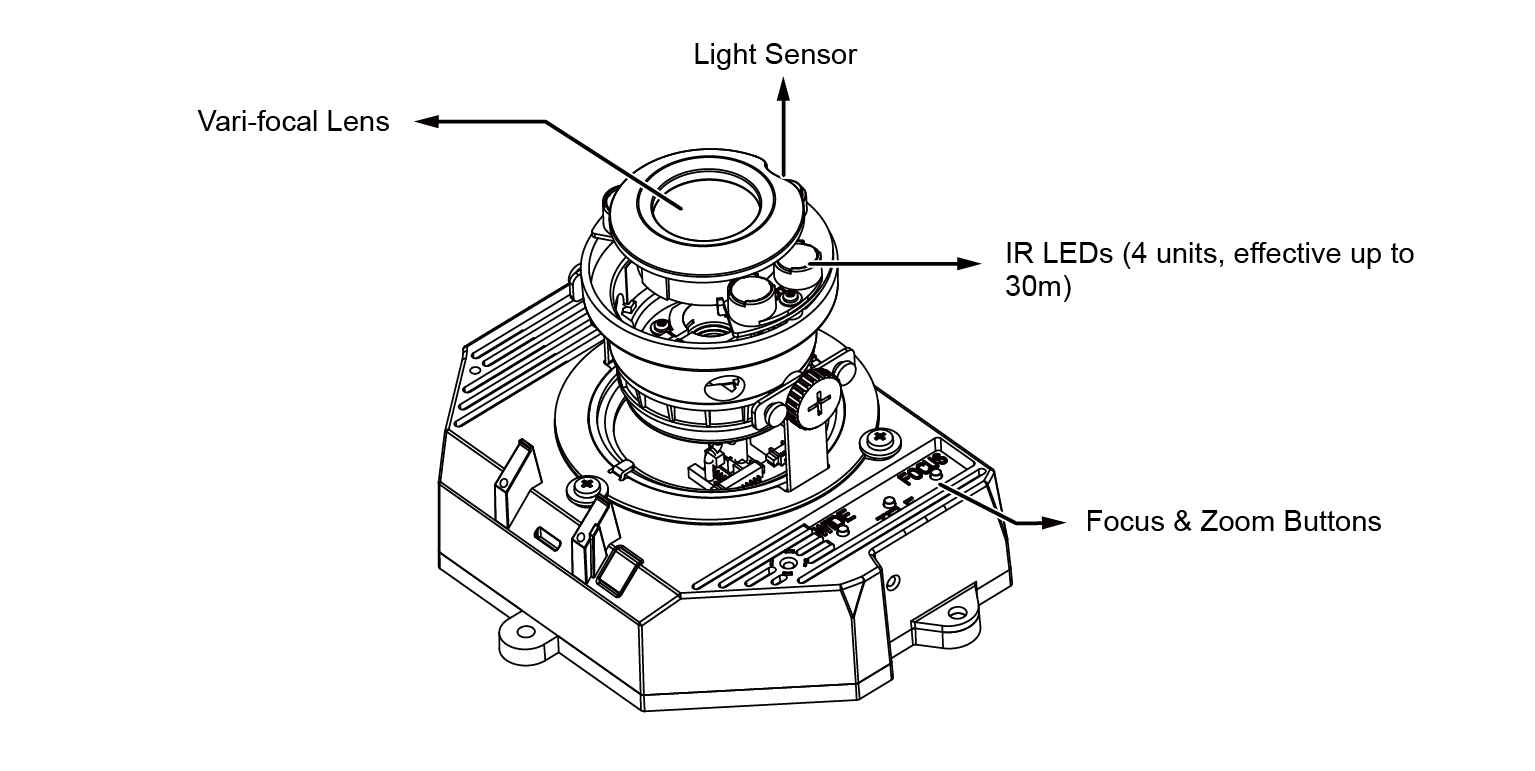 Product Rear View