VIVOTEK FD8163 is an easy-to-use fixed dome network camera, featuring 2-Megapixel or 1080p Full HD resolution with superb image quality up to 30 fps. As a true day/night camera, the FD8163 features a removable IR-cut filter and 15-meter smart IR illuminators, maintaining clear images 24 hours a day. It is especially suitable for monitoring wide open indoor areas such as a building lobby, train station, or applications requiring accurate identification.
For installers, properly adjusting the focus of a megapixel network camera can be difficult due to the image detail. Thus, VIVOTEK has introduced the Smart Focus System including Easy Focus Button and Remote Focus to make installation and adjustment easier. VIVOTEK has adopted lenses with a built-in stepper motor that the installer can use to remotely control the focal length and precisely adjust the camera focus, offering hassle-free installation and maintenance. Furthermore, the unique design featuring four-step mounting also facilitates installation of the FD8163.
Together with a PIR sensor for enhanced detection, WDR enhanced, 802.3af Compliant PoE, tamper detection, microSD/SDHC/SDXC card slot for on-board storage, video cropping, and e-PTZ functionality, the FD8163 is indisputably the top choice for reliable and high performance surveillance.
Feature
2-Megapixel CMOS Sensor
30 fps @ 1920x1080
3 ~ 9 mm Motorized, DC-iris Lens
Removable IR-cut Filter for Day & Night Function
Built-in IR Illuminators, Effective up to 15 Meters
Built-in Smart IR to Avoid Overexposure
Built-in PIR Sensor for Human Detection
WDR Enhancement for Unparalleled Visibility in High Contrast Environments
Smart Focus System for Remote and Easy Focus Adjustment
CPU
Multimedia SoC (System-on-Chip)
Flash
128 MB
RAM
256 MB
Image sensor
1/2.7" Progressive CMOS
Maximum Resolution
1920x1080
Lens Type
Vari-focal, remote focus
Focal Length
f = 3 ~ 9
Aperture
1.2 ( wide ), 2.1 ( tele )
Auto-iris
DC-iris
Field of View
38° ~ 104° (horizontal)
22° ~ 71° (vertical)
43° ~ 111° (diagonal)
Shutter Time
1/5 sec. to 1/32,000 sec.
WDR Technology
WDR Enhanced
Day & Night
Removable IR-cut filter for day & night function
Minimum Illumination
0.08 Lux @ F1.2, 50 IRE ( Color )
0.001 Lux @ F1.2, 50 IRE ( B/W )
Pan range
360°
Tilt range
180°
>Pan / Tilt / Zoom
ePTZ
48x digital zoom (4x on IE plug-in, 12x built-in)
IR Illuminators
Built-in IR illuminators, effective up to 15 meters
IR LED*8
On-board Storage
MicroSD/SDHC/SDXC card slot
Video Compression
H.264, MJPEG & MPEG-4
Maximum Frame Rate
H.264: 30 fps at 1920x1080
MPEG-4: 30 fps at 1920x1080
MJPEG: 30 fps at 1920x1080
Maximum Streams
4 simultaneous streams
S/N Ratio
Above 52 dB
Dynamic Range
55 dB
Video Streaming
Adjustable resolution, quality and bit rate
Configurable video cropping for bandwidth saving
Image Settings
Adjustable image size, quality, and bit rate
Time stamp and text caption overlay, flip & mirror
Configurable brightness, contrast, saturation, sharpness, white balance and exposure control, gain, backlight compensation, privacy masks
Scheduled profile settings
Audio Capability
Audio input / Audio output (Full duplex)
Audio Compression
GSM-AMR
AAC
G.711
Audio Interface
Built-in microphone
External microphone input
External line output
Effective Range
5 meters
4">Network Users
Live viewing for up to 10 clients
Network Protocols
IPv4, IPv6, TCP/IP, HTTP, HTTPS, UPnP, RTSP/RTP/RTCP, IGMP, SMTP, FTP, DHCP, NTP, DNS, DDNS, PPPoE, CoS, QoS, SNMP and 802.1X
Network Interface
10 Base-T / 100BaseTX Ethernet (RJ-45)
ONVIF
Supported, specification available at www.onvif.org
Video Motion Detection
Triple-window video motion detection
Alarm Triggers
Video motion detection, manual trigger, digital input, periodical trigger, system boot, recording notification, camera tampering detection, PIR
Alarm Events
Event notification using HTTP, SMTP, FTP, NAS server
File upload via HTTP, SMTP, FTP and NAS server
Smart Focus System
Remote focus & easy focus
Connectors
RJ-45 for network/PoE connection Audio input/output
AV output
AC 24V power input
DC 12V power input
Digital input*1
Digital output*1
LED Indicator
System power and status indicator
Power input
12V DC
24V AC
IEEE 802.3af PoE Class 3
Power consumption
DC 12V: 6.9 W
PoE: 9.3W
AC 24V: 8.5W
Dimensions
Ø: 157 mm x 110 mm
Weight
Net: 840 g
Safety Certifications
CE, C-Tick, FCC (Class B), LVD, UL, VCCI
Operating Temperature
0°C ~ 50°C (32°F ~ 122°F)
Warranty
36 Months
Operating System
Microsoft Windows 7/Vista/XP/2000
Browser
Mozilla Firefox 7~10 (Streaming only)
Internet Explorer 7.x or 8.x
Other Players
VLC: 1.1.11 or above
QuickTime: 7 or above
Product Front View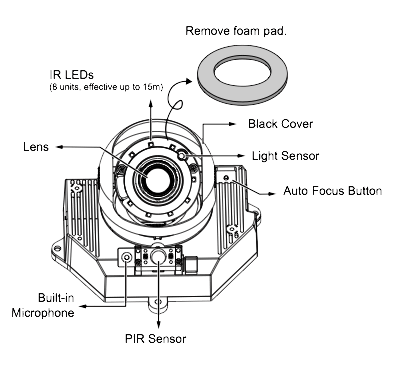 ---
Product Rear View